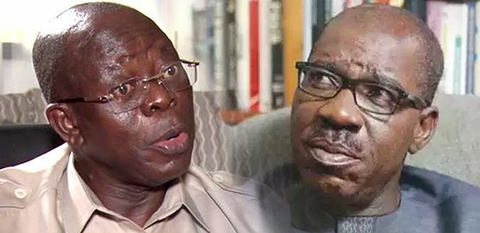 Edo crisis: Obaseki tackles Oshiomhole over mock primary
The Edo State Government has flayed members of the group, Edo Peoples Movement, for trying to absolve Adams Oshiomhole of the violation of government's regulations to check the spread of coronavirus in Edo State.
In a statement, the Special Adviser to the Edo State Governor on Media and Communication Strategy, Mr Crusoe Osagie, on Friday said, "Our attention has been drawn to a vacuous publication by a group of dissidents under the tattered umbrella of the Edo Peoples Movement, who, hiding behind a finger, took the ignoble task of defending the activities of Comrade Adams Oshiomhole and his minions.
"They have tried once again to tender explanations for the indiscretion and uncharitable actions of Oshiomhole in organising a botched All Progressives Congress mock primary amid the coronavirus pandemic, in a futile attempt to choose a candidate from an avarice-stricken lot, with the ultimate mission to unlock the public purse of Edo State for their self-serving ends.
"Before any attempt to engage on the issues, there is need to pose some questions to these characters, which they need to answer before the right-thinking members of the public can take them seriously. Why has Oshiomhole, who has been accused of organising the mock primary not come out openly to distance himself from the action, condemn it and possibly open up investigation within the party to find out the facts of the matter and punish the culprits? Why is the denial coming from third parties?"
He added, "At different fora, these surrogates have made attempts to either say the meeting never held; that it was held for purposes other than choosing a candidate to advance their interest during the elections and yet another version being that it actually held but the participants were no more than 20 persons."
On questions raised over the state government's revenue, he said, "Oshiomhole and his muppets are busy taking stock of the revenue purportedly flowing to the state monthly from the federation account, Internally Generated Revenue and other sources. Those who do not know them may be misled to think that the purpose for this stocktaking would be that these persons seek more judicious use of these funds to bring value to Edo people; but far from it, Edo people know them all too well and their interest is not geared to derive more value for the common man in the state."