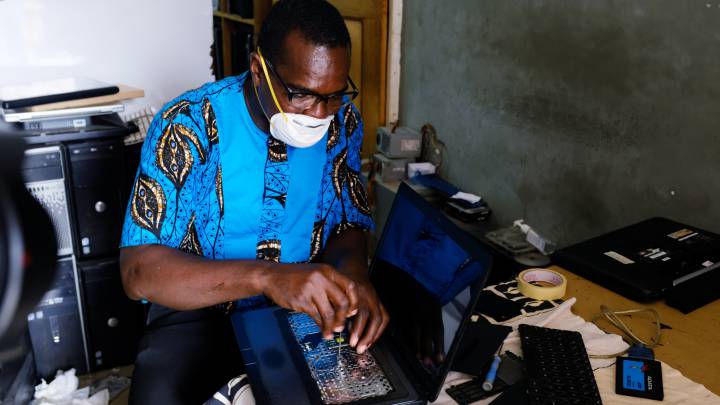 Coronavirus live Africa: latest Covid-19 news on 29 April
Africa Covid-19 update: 19:30 WAT Wednesday 29 April (20:30 CEST)
According to the latest figures published by Johns Hopkins University, 3,170,335 cases have been detected worldwide, with 224,708 deaths and 957,568 people now recovering.
Nigeria: 1,532 cases / 44 deaths
South Africa: 4,996 cases / 93 deaths
Ghana: 1,671 cases / 16 deaths
Kenya: 384 cases / 14 deaths
One of the latest blogs from the World Bank highlights how expanding digital financial services, in area in which Sub-Saharan Africa is a world leader, "can help developing economies cope with crisis now and boost growth later"….
Egyptian President Abdel-Fattah Al-Sisi on Wednesday attended the virtual mini-summit held by the African Union (AU) to discuss joint efforts to combat COVID-19 pandemic in the continent.
"The president stressed the necessity of continued communication between African states to coordinate efforts and promote joint continental work for combating the novel coronavirus," Egyptian presidential spokesman Bassam Rady said in a statement.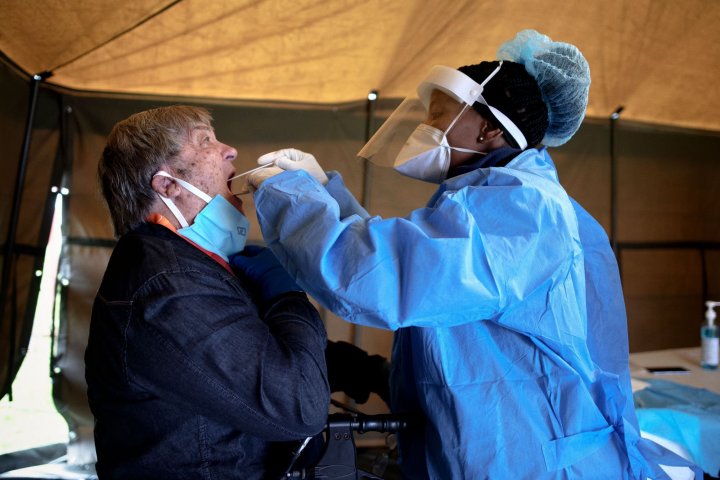 South Africa records biggest daily rise in coronavirus cases
South Africa reported another 354 cases of the coronavirus on Wednesday, the most new cases recorded in one day and bringing the total in the country to 5,350, the health department said in a tweet.
"This is the highest number of cases in a 24 hour cycle recorded to date and represents a 73% increase on the day before," it said, adding in a separate tweet that the number of deaths had risen by 10 to 103. (reporting by Reuters)
(Photo by AFP: An elderly man (L), a resident of Sophia Town, Johannesburg, opens his mouth to receive a testing swab for COVID-19 coronavirus at a screening and testing drive in a tent in the courtyard of Sophia Town Clinic, on April 28, 2020.)
The arrival of Cuban doctors in South Africa to help fight the coronavirus has not gone down well with local unemployed medics, according to a BBC report…
Coronavirus cases in Africa surpass 34,000
The World Health Organisation (WHO) has conformed that the number of reported coronavirus cases in Africa has increased from 33,000 to over 34,000 in the past 24 hours. There have been 1,517 deaths while 11,180 people have recovered, according to the WHO.
Presidential communication
Ghana's test and trace success
A rigorous programme of testing for coronavirus and tracing the contacts of those found positive has helped Ghana avoid an explosion in cases that could have overwhelmed its health system, President Nana Akufo-Addo said on Wednesday.
The West African nation has reported 1,671 cases with 18 deaths since March 13. Akufo-Addo said around 110,000 people had been tested, in a population of some 31 million, and the share of positive tests has remained consistent at around 1.5%.
"We are not seeing this relatively large explosion that was feared for our country at the beginning, and therefore the ability to manage those who are identified is much more within our means," Akufo-Addo told a conference about Africa's response to the crisis, via video from Accra.
"The emphasis has been to go out and look for those who are infected and deal with it."
Nigeria's six-week easing
Nigeria will ease new coronavirus lockdowns in three key states over a six-week period from 4 May, the head of the country's task force on the disease said on Wednesday.
The easing of lockdowns in Lagos, Abuja and Ogun will be split into two-week phases, said Boss Mustapha, the chairman of Nigeria's presidential task force for Covid-19.